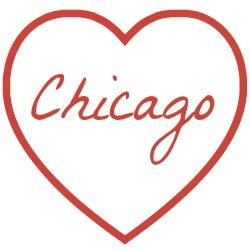 It's no secret that I absolutely love where we live – we gave up a life without snow in Texas and returned to the Chicago area after almost 8 years away, so that's saying something. And while the whole year here is pretty great, summer is my absolute favorite season – the city just comes alive when the weather turns nice!
I've gotten together with a group of bloggers to highlight the things we love most about where we live – here's my list for the Chicago area!
Downtown – There is SO much to do in the downtown area of Chicago! Museum Campus houses the Shedd Aquarium, Field Museum, and the Adler Planetarium, all of which are must-see spots if you're visiting our city. Down the road a bit is Navy Pier, where you can shop, take a boat ride, play mini-golf, and experience our 150-foot tall ferris wheel. Architectural tours of Chicago area very popular, and the shopping on Michigan Avenue can't be beat. On a hot summer day locals like to hang out at one of the many beaches along Lake Michigan. Lincoln Park Zoo and the Lincoln Park Conservatory are two excellent spots to spend some time, and they're both FREE! Our favorite way to spend a day downtown is at Millennium Park, splashing in Crown Fountain.
Local park districts – The park districts throughout Illinois are really amazing – I never realized until I moved to Texas that towns in every state don't have the park districts we do here. Depending on what suburb you visit you're likely to find park district facilities ranging from boat rides to amusement parks, water parks to living history farms, all offered at extremely reasonable rates. Honorable mention here goes to our local libraries, many of which offer unparalleled children's play areas and programming.
Our central location – Even though there's enough to keep any family occupied for a long time within Chicago and her surrounding suburbs, sometimes you just want to get away. Luckily Chicago is in a perfect central location for day trips and weekend road trips. One of our favorite places to go to get away from it all is Galena, a small resort-ish town located about 3 hours west of Chicago, near the Indiana border. Other popular road trip locations include the Wisconsin Dells and St. Louis. Just want to get away for a day? Madison, Milwaukee, and the Indiana Dunes are all excellent daytrip locales within easy driving distance from the city.
Natural areas – Despite being home to the third-largest city in America, the Chicagoland area boasts some amazing natural areas. Forest preserve districts offer miles upon miles of bike and hiking trails, as well as streams and lakes for boating and fishing. Nature centers abound throughout the suburbs, and there are a number of arboretums and gardens within driving distance of the city.
Special events – There is always something going on around these parts, particularly in the summer months. The Taste of Chicago, Blues Festival, Jazz Festival, Air and Water Show, various sporting events, and different neighborhood festivals offer entertainment options literally every day of the summer. Seriously, there is ALWAYS something fun to do in Chicago!
So why do I love Chicago and its surrounding areas? More than the museums, the nature centers, the entertainment, the location, I love the people. Hard-working, tell-it-like-it-is folks who will do anything for a friend. It's a town that's easy to fit into, that's easy to get along in. The food is great, the entertainment is amazing, and there's something for everyone here. Really, what's not to love??  :)
Be sure to visit the rest of these great bloggers to see what they love about where they live! 
Atlanta with Kid takes us on a tour of Atlanta
Jersey Family Fun shares the great attractions in New Jersey
Manasota Family Fun shows us the Suncoast of Florida
 Child Central Station explores the Upper Peninsula of Michigan
What's Doing? Tampa Bay introduces us to sunny fun in Tampa Bay
Nothing if Not Intentional highlights family travels in Indiana
Busy Kids, Happy Mom travels back in time to (Historic) Virginia
Meet Penny introduces us to the Alabama Gulf Coast
Adventures in Wunderland highlights some fun in Southern California
 KC Edventures shows us places to discover in Kansas City Missouri & Kansas