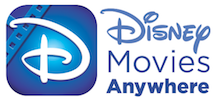 Do you like Disney movies? Do you like free stuff? You should download Disney Movies Anywhere.  :)
Disney Movies Anywhere is a new app for iPhone, iPad, and iTouch (there's also a web version) that gives you access to Disney, Pixar, and Marvel movies wherever you are. You can connect previously purchased digital copies of movies, and movies can either be streamed or downloaded to your device.
For a limited time, app users who activate and connect their Disney Movies Anywhere account to their iTunes account will receive a free digital copy of Disney Pixar's "The Incredibles." Awesome!
I did this yesterday in about five minutes despite the fact that my phone is on its last leg and my wifi was spotty. It's a free movie, and a great way to keep all of your Disney-related purchases in one place. You can find out more and sign up by clicking the logo above to go to the Disney Movies Anywhere website. Enjoy!