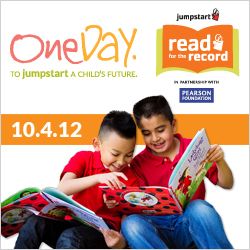 Entries on this giveaway are closed, but you can still pledge to read!
Once again, Bright Horizons is the Chicago-area sponsor for Read for the Record, and I'm very excited to be a part of the campaign again this year too! If you haven't participated in Read for the Record before, here's what it's all about:
Jumpstart's Read for the Record®, presented in partnership with the Pearson Foundation, is one day of the year when millions of individuals come together to celebrate literacy in an effort to jumpstart a child's future.  On October 4, 2012, adults and children across the country will be encouraged to read Ladybug Girl and the Bug Squad by David Soman and Jacky Davis, in support of Jumpstart's mission: to work toward the day every child in America enters school prepared to succeed. Learn more at jstart.org/readfortherecord.
We've actually never read any of the Ladybug Girl books before, but I can tell it's going to be a story Sophie will love.  :o) This is a cause that's near and dear to my heart, especially this year – Sophie is in kindergarten now and I see her literacy skills growing daily; I wish every child could be as fortunate as mine. And that's what this program is all about, making sure that ALL kids enter school with the skills they need to succeed.
If you're interested in participating in Read for the Record, you can pledge to read here. If you don't have a copy of the book, head to the bookstore, library, or read it online. Or enter to win a copy here - I'm giving away two copies of Ladybug Girl and the Bug Squad!
Entering is easy – just leave a comment letting me know your favorite book to read to the kiddos. For a second entry, go pledge to read, then come back and leave a comment to let me know you did.
Two ways to enter, and the giveaway will close on Friday, September 28. Good luck, and thanks for reading!